Sarah Heneck & Joanne Lees
The Department of Cooperative Governance and Traditional Affairs (COGTA) and the Department of Economic Development established a number of sector-based task teams in order to develop post-lockdown economic recovery strategies for KZN. One of the task teams focused specifically on the informal economy. Patrick Ndlovu, one of AeTs co-founders, was asked to co-convene this task team, and Richard Dobson, AeTs other co-founder, and director, was also invited to participate. The final report prepared by the Task Team can be accessed here. This blog post summarises AeTs input into the webinar which provided a platform for public engagement.
When thinking about economic recovery strategies for the informal economy post-lockdown, it is vital to keep in mind that a return to a pre-lockdown 'normal', based on past management principles, is not viable. There is an opportunity now to reconfigure public spaces in order for them to be more accommodating to informal workers as a 'new normal' where informal workers livelihood strategies as well as their health and safety are prioritized. This should be the end goal.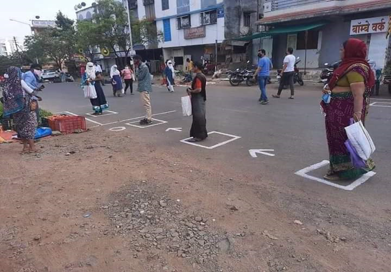 AeT anticipates that due to the large number of formal job losses in South Africa as a result of the COVID-19 pandemic, there is likely to be an increase in the number of people working informally in order to keep food on their tables. Therefore, skilful handling of the tension between the need for people to work and the need to protect their health, particularly through physical distancing, will be required.
The municipal system of authority in Durban gives very specific powers to officials in siloed departments, with little flexibility or ability to exercise discretion. Furthermore, consultation between the government and informal workers themselves is severely lacking. In order for a successful reoccupation of public space, this needs to change. An integrated strategy between informal workers, Business Support Unit, Environmental Health, law enforcement and departments dealing with public transport, is vital. Public transport hubs, such as Warwick Junction, are places which attract informal traders due to the heavy foot traffic, which translates into a higher volume of customers. This is good for businesses but bad in terms of viral spread. Warwick Junction usually sees 500 000 commuters pass through it every day on busses, trains and taxi's; however, trains are not currently operational and taxi's are operating at limited capacity, requiring informal traders to adapt to these altered circumstances. Officials and official policy need to adapt in turn. Continuing with 'business as usual' (e.g. expecting traders to pay for permits when they have been out of work months, confiscation of stock and overemphasis on regulations), will potentially have devastating consequences. Solutions should be co-developed; taking into account the lived experiences of informal workers and their vast knowledge and capacity for innovation which is so often overlooked.
In some cases, all that is required for successful reoccupation is provision of sanitizer, adequate paving, using markings to encourage customers to distance, or fixing of ablution blocks. In others, following distancing guidelines is a near impossibility if current physical structures remain as they are. The Traditional Herb and Medicine Market in Warwick Junction is an example of this. There is not enough space to keep adequate distance between traders and their customers and therefore alternative solutions need to be developed; moving a proportion of the traders to another trading site is a potential option. For many street vendors, the widening of pavements (for which there is existing precedent in Durban on Dr Yusuf Dadoo Street) would make distancing a far more realistic possibility. There are a number of roads in the city centre which need not have as many lanes dedicated to cars as they do; the widening of pavements would not only be a positive development in terms of decreasing the spread of coronavirus, but would also contribute towards the creation of better urban spaces.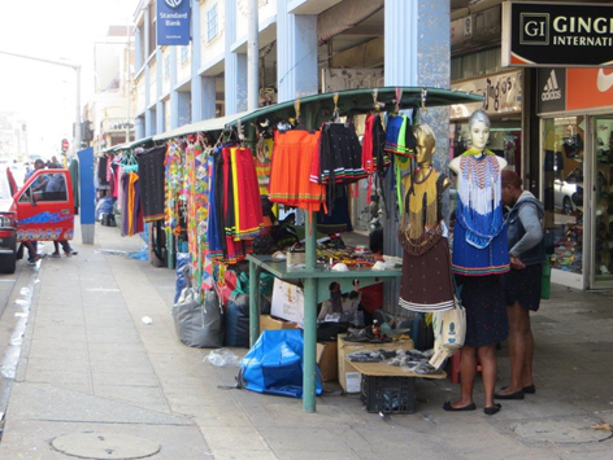 In order to develop a successful strategy for the reoccupation of public space, an understanding of the dynamics of the informal economy is essential. AeT has had a strong presence in the informal sector, particularly in Warwick Junction, for over 12 years, with a core mandate underpinned by consultative processes. This leaves the organization well positioned to deal with the various challenges that will arise in the coming months. It is AeTs opinion that Warwick Junction be used as a demonstrable pilot in order to inform guidelines regarding informal work in public space for the rest of the province. These are extraordinary times, and creative, magnanimous, developmental solutions which are supportive of informal workers should be the way forward.
[Feature Image: Brook Street]
http://aet.org.za/wp-content/uploads/2020/07/Brook-Street.png
426
1294
AET
https://aet.org.za/wp-content/uploads/2014/02/logo22.jpg
AET
2020-07-03 12:53:50
2020-07-07 08:40:20
Reoccupation of Public Spaces