Phumelele Mkhize
For people living and working informally, the opportunity to travel and exchange ideas with similar people from other places in the world is rare. In August 2016, a team from Asiye eTafuleni (amongst whom were two women informal workers), along with members from various organisations in South Africa including waste pickers from SAWPA (South African Waste Pickers Association) and members of South African Slum Dwellers International (SASDI), went on a learning exchange to Bogota. In continuation with the exchange previously held in South Africa, informal workers and "slum" dwellers had the opportunity to learn and exchange ideas over seven days of meetings, workplace visits and relationship building activities. This piece will reflect on the Bogota exchange through the lens of Lihle Nyawo, an informal worker based in Warwick Junction and Patrick Ndlovu (Asiye eTafuleni social facilitator) who were two of three AeT representatives.
The first day of the Bogota exchange was an opportunity to reflect on the learnings from the exchange in Durban in 2012, which was organised by SASDI. Key learnings from the South African context was that of informal workers perceiving their livelihood strategies as a meaningful way to create a living, and comparable to building a business in a niche sector. One of the key strategies SASDI had implemented and identified as critical for the mobilization of its members was that of collective savings groups, which had enabled its members to invest in assets and opportunities. In turn, the South African delegation expressed a desire to learn about organising from the Bogota exchange.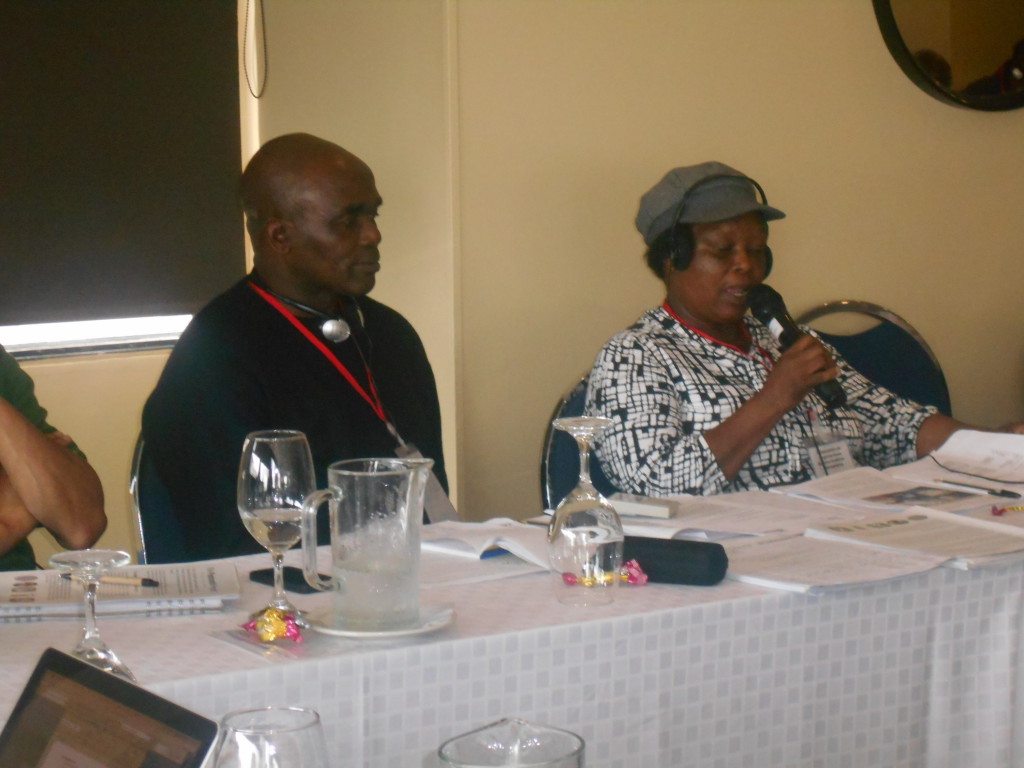 From the onset, it was evident that a significant percentage of waste pickers in Bogota were organised as members of various recycler organisations as well as co-operatives. It was suggested that up to 70% of all waste pickers in Bogota were members of such groups. The government representative present at the conference had reiterated the interest of the local government to support waste pickers collectives, suggesting that many challenges for government responding to the needs of the informal sector pivoted around identifying beneficiaries collectively.
Other challenges facing waste pickers had to do with negative public perceptions of their work, which was not acknowledged as a valid means of generating income. The confiscation of goods, harassment and evictions by police and local government as well as punitive city bylaws made evident the misconceptions surrounding the practices of waste pickers. In response to the challenges faced by the sector, the organisation, Asociacion de Recicladores de Bogota (ARB),  was founded with the mandate to advocate for various legal and organizational strategies to support waste pickers as well as providing support services.
With over 10 200 waste picker beneficiaries from the work of the ARB, the advantages of being a part of an organisation are substantial. An example of the collective agency was evident when Bogota waste pickers protested in a case against a private waste collector who had been awarded a large tender to remove household waste which would bypass the opportunity for waste pickers to remove recyclable waste. Due to the high level of organization of this waste picker group, the public was able to identify them and support their cause.
On the streets of Bogota, the South African delegation were able to experience the workplaces of three waste recycling sectors, including paper and plastic waste recycling, electronic waste recycling and the food waste recycling sector. What they found to be different from the experience back home was, up scaled more industrialized work place systems where groups of waste pickers processed large quantities of paper and plastic materials, by the truckload. Not only was workplace safety clearly prioritized by the workers, but a holistic work environment was created by the support social services (childcare facilities, ablutions, storage, offices etc.), which meant that workers could work more efficiently.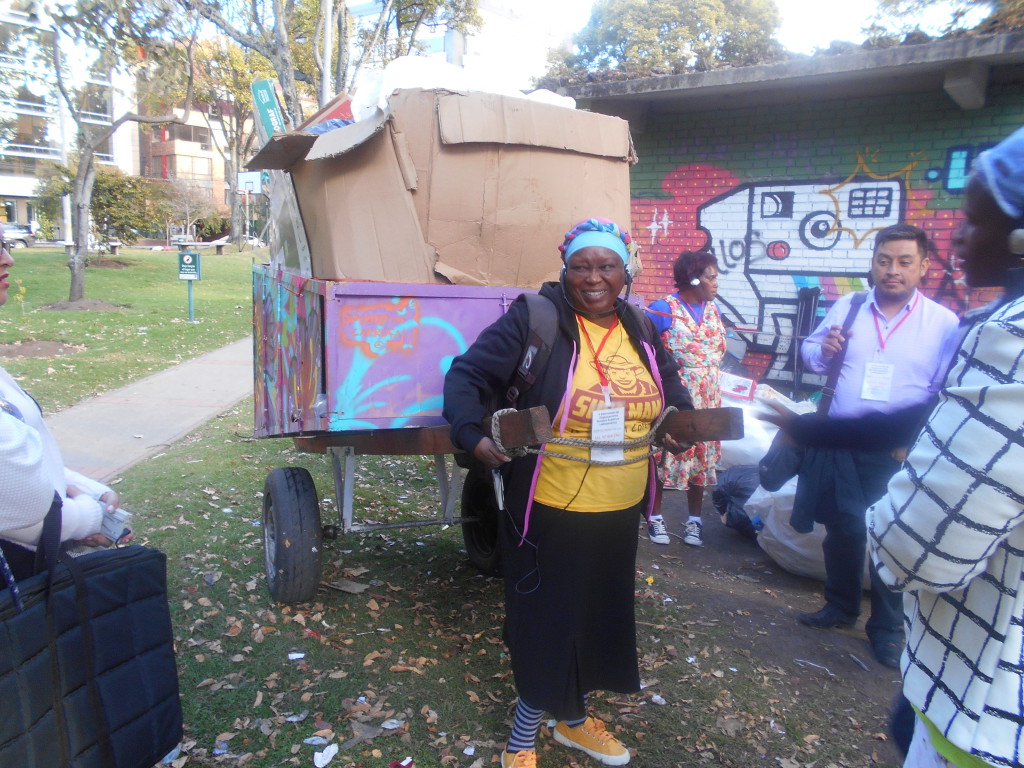 The experience on the street also showed that waste pickers in Bogota could act strategically as a collective to invest in workplace and business assets such as property and vehicles which could ensure that their work could be sustained well into the future. The electronic waste recyclers modeled their growth on the basis of processing and exporting corporate waste at a large contractual scale and through acquiring certified skills as the work demanded. For waste pickers, their work was seen as a response to work scarcity, as well as an opportunity for the transfer of business skills to their future generations which was evident in the high number of family co-operatives.
After spending a week in Bogota, some of the key learnings were about the need to overcome distrust amongst waste pickers in the South African context in order to realise the numerous benefits of organising, which include leveraging the support of local government and the broader public in supporting waste picker organizations. It was also evident that advocacy strategies were more effective when representative of the collective rather than individual waste pickers. Lastly, was the realization of the value of waste pickers' vocation to their city's environmental sustainability, meaning that their work was more than just 'valid' and instead critical to the functioning of the city.