There are over 500 informal recyclers operating in Durban's inner-city Durban and the surrounding areas. It is estimated that they salvage an average of 150 tonnes of cardboard every day, which has numerous benefits for the eThekwini Municipality, residents of eThekwini, and the natural environment.
In 2010, Asiye eTafuleni was been commissioned by eThekwini Municipality through its Imagine Durban Demonstration Fund (a joint initiative between the Municipality and Sustainable Cities, a Vancouver based NGO) to implement inner city cardboard recycling project.
The project is aimed at testing methods of improving the livelihoods of informal recyclers (also referred to as waste pickers) and better manage the cardboard collection process within the public realm. Asiye eTafuleni has been piloting the project since November 2009 with the distribution of custom-made aprons, custom-made trolleys and other equipments to a group of Cardboard Recyclers in response to their needs for the enhancement of their working environments.
Asiye eTafuleni (AeT) engaged in a series of deliberate processes. AeT tested methods of improving the livelihoods of informal cardboard recyclers and developing interventions which would help them to better manage the cardboard collection process within the public realm. AeT conducted research through observations and interviews with informal recyclers. The next phase of the project involved the design, development, and distribution of custom-made trolleys and work aprons to a group of identified beneficiaries. In line with AeTs mandate to work alongside informal workers, feedback received from the informal recyclers has been used to improve iterations of the products.
What we learned from the research phase was as follows:
1) Theft of salvaged recyclables is a big challenge (particularly women informal recyclers)
2) Informal recyclers find it difficult to find safe spaces to store their trolleys over-night
3) Sorting cardboard on narrow pavements located in areas of high pedestrian and vehicle traffic was a common struggle
4) Informal recyclers lack access to ablution blocks or facilities for storage of clothes and valuables.
AeTs mandate is to work alongside informal workers to enhance their experience as workers in the public space realm. Gaining a deeper understanding of the factors that make informal workers' lives challenges, put AeT in a position to be able to respond to their needs. As a result, the Imagine Durban Inner-City Cardboard Recycling Project catalysed the formulation of the Palmer Street Recycling Project.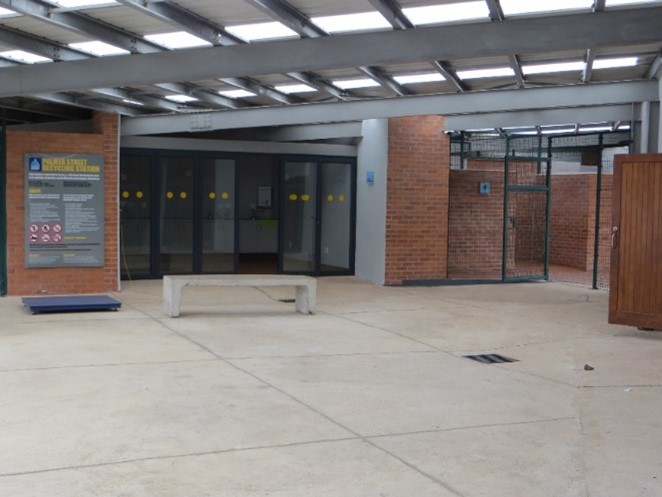 After many meetings of the Informal Recycling Reference Group, an unutilized space on Palmer Street in the inner-city was earmarked for the development of a recycling facility. The facility that has been constructed by the Municipality provides informal recyclers with a space where they can safely sort and store their recyclable materials, store their carts overnight, and have access to safe and clean ablutions. The Palmer Street Recycling Facility became operational in May 2021, after 12 years of planning and preparation.
There are currently 8 recyclers who are making use of the facility (which has enough space for over 16) and each of these women have also been provided with custom designed carts, branded work attire and identification cards. The facility is a response to the abovementioned concerns raised by informal workers. It also serves as a way to legitimize and formalize the extremely valuable, highly underappreciated work they are doing.
The broader objective is to establish the Palmer Street Recycling Facility as the main recycling hub and from there, to build a network of small-scale satellite sorting facilities across the city. Initially 3 areas were identified for the replication of smaller sorting facilities; Sparks/ Brickfield, Prince Edward Street and Jeffels Road. However, these examples will need to be reviewed and further research and consultation implemented.
 Some of the learnings from the pilot phase were:
1)    Urban management solutions should encompass design interventions: As it can be a catalyst for integrated and more structured urban management, by including the varying expectations of multiple stakeholders.
2)    Interdisciplinary approach enables effective synergies for solution-making:
This encompasses the different energies needed for street work, research and evaluation processes, design development, and implementation at scale.
3)    Ensuring sustainability may mean finding creative solutions to the zero-waste strategy: By raising the consciousness around the challenges and possibilities around informal recyclers, it can have far reaching positive effects for the generators of waste and the recyclers.
4)    Funding streams and the final activities of a project should be incisive in order to improve the challenges over time. This is because with upscaling, managing the process becomes more complex, particularly for the second generation delivery of the project.