Tasmi Quazi
After unloading nearly 300 kilograms worth paper and cardboard recyclables stuffed into eThekwini municipal official, Pumla Jali's car, her equally fatigued colleague, Caili Forrest exclaimed "It always seems impossible until it's done!" These are the words of the legendary Nelson Mandela who inspired the act of 67-minutes of social service on the date of his birthday, July 18, which is marked as an international day in his honour.
"It always seems impossible until it's done." – Nelson Mandela 1918-2013
For this year's 67-minutes of service on Mandela Day, Asiye eTafuleni's (AeT) partners within the City's Economic Development and Investment Promotion Unit (EDIPU) decided to  collect cardboard and paper recyclables from various municipal departments across 11 floors at the Rennie's House – in order to support the livelihoods of inner-city informal recyclers of AeT's Imagine Durban Cardboard Recycling Project.
The protagonists of the idea, Caili and Pumla, conceived this act of service as contributing to local economic development in a small way through supporting supporting economic livelihoods of inner-city informal recyclers. They made a number of calls to various City officials prior to Mandela Day asking everyone to keep aside their recyclables. They reported that the vast majority of the city officials were prepared for them with their recyclables ready. There was particular enthusiasm from their colleagues driving this effort such as their Deputy Head, Ajiv Maharaj, who was merrily digging into bins searching for recyclables.
It was also mentioned that the building administration personnel of Rennie's House were instrumental in achieving this feat, led by Mr Wiseman Ngcobo, in assisting with access and moving of the waste across 11 floors. The collection process continued for over 3 hours and then delivered to the  informal recyclers. Initially the two City officials were concerned about the clutter they had caused by delivering the recyclables on the pavement. However, after seeing how efficient and systematic the recyclers were at sorting the recyclables, they not only observed with intense curiosity but they participated in the process right until the purchase of the material by the "middle-agent".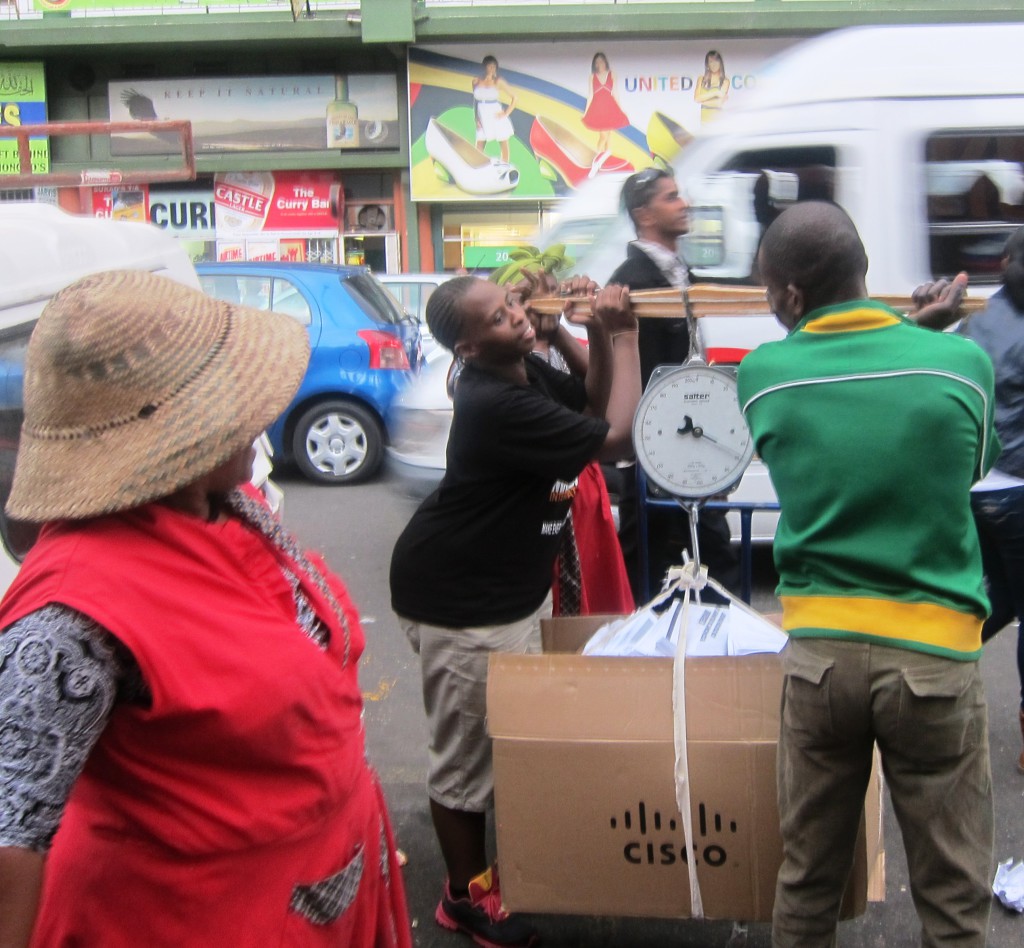 This initiative inspired the City's Corporate Policy Unit to follow suit as Thomas Ferreira of the Imagine Durban Project organised over half a ton of paper and cardboard recyclables for the inner-city informal recyclers. There is thus interest to sustain this relationship with informal recyclers on an ongoing monthly basis.
The exercise highlighted the importance of increasing access for informal recyclers to generators of waste which would ensure a more predictable and steady income. Furthermore, the City officials recognised that being hands-on with project beneficiaries brings a rich and nuanced level of understanding which no meetings and presentations can ever convey – inspired by the 67-minutes of service on Mandela Day.