Tasmi Quazi
An important component of Asiye eTafuleni's (AeT) research methodology includes getting our hands down and dirty through practical work experience and observation exercises of informal workers in their working environments. This is aimed at building a grounded understanding of the working dynamics which ultimately inform potential design interventions. Secondly, this assists in building a working relationship with the community who are seen as co-developers of potential interventions for their working environments.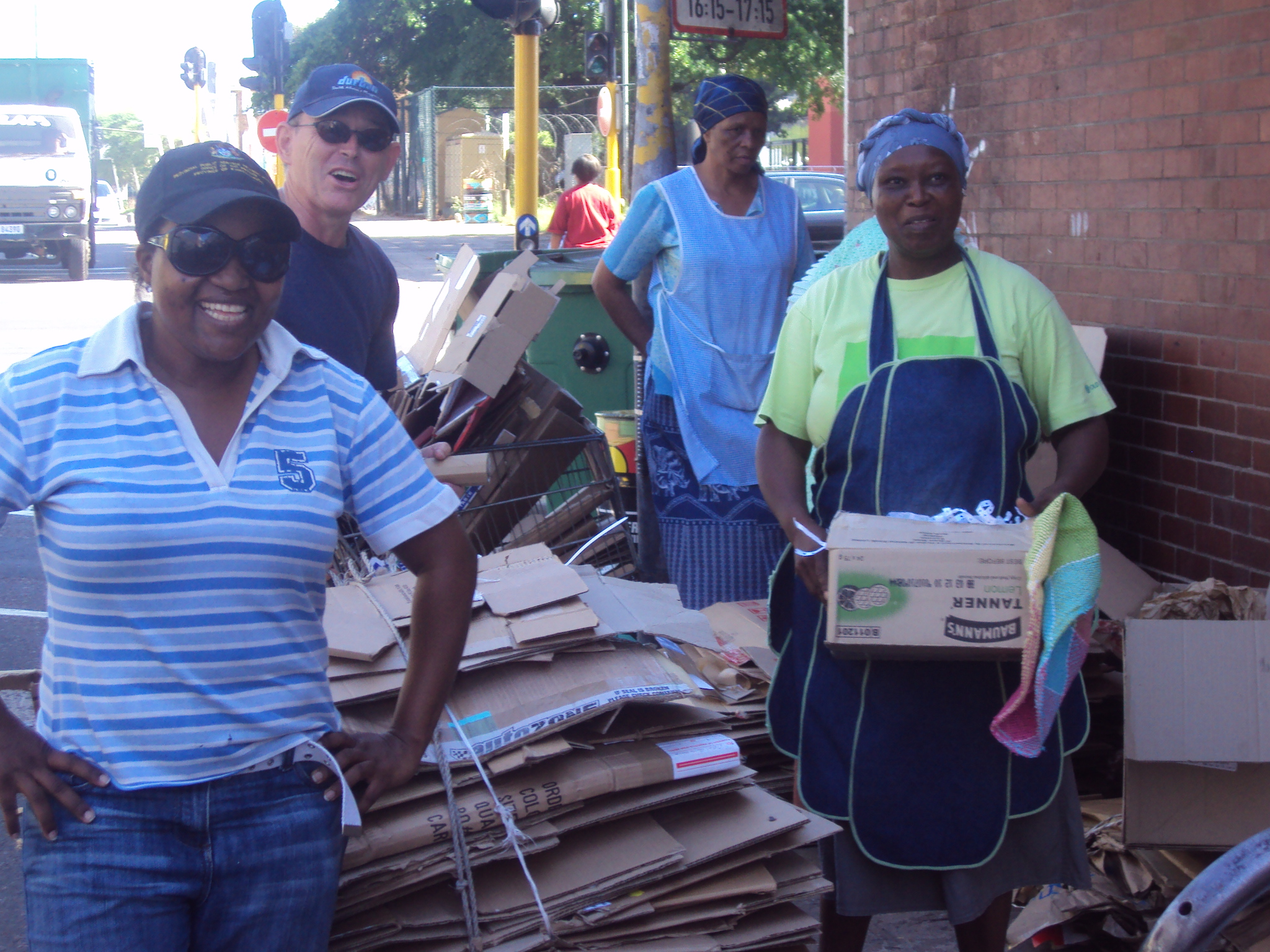 For the Imagine Durban Inner-city Cardboard Recycling project, the entire AeT team joined informal recyclers operating from Palmer Street for a four and a half hour collection round. AeT's Richard Dobson and Phumzile Xulu were partnered with informal recycler, Maria Vilakazi. At some point during the collection round, Richard and Phumzile were seen opening green bins to salvage cardboard and Richard whimsically reflected the surprised looks of "white" drivers observing him from their cars probably thinking "…wow we know that the economic recession is bleak, but it must be bad if a "white" man is digging in the bins". This clearly highlighted the stigma attached to this informal activity, which however provides a valuable service to recycling in the city and is increasingly becoming important within a green economy strategy.
Subsequent to these experiences, AeT's intern Dennis-Lee Stols and Tasmi Quazi have been conducting observation exercises with informal recyclers which have been captured as a series of photographic essays on the working lives of specific informal recyclers as Menzi Dlamini, Musa Khoza, Afrika Ntuli, Maria Vilakazi and Balisile Msomi.
This methodology has also enabled great opportunities for hearing remarkable and inspiring stories of the working and personal lives of the informal workers, including identifying supportive people from formal businesses and the general public. For instance, informal recycler Balisile Msomi told us how grateful she is to the supermarket, Boxer Superstores in West Street for enabling her to collect cardboard for the last 3 years. Her primary income comes from recycling the cardboard she collects from Boxer and while she waits for the "middle-agent" to collect her cardboard, she makes and sells beaded jewellery. She added that the Boxer management care for her better than their own staff, whereby they get concerned if she ever falls ill and where they have assigned her a set of keys to the bin area.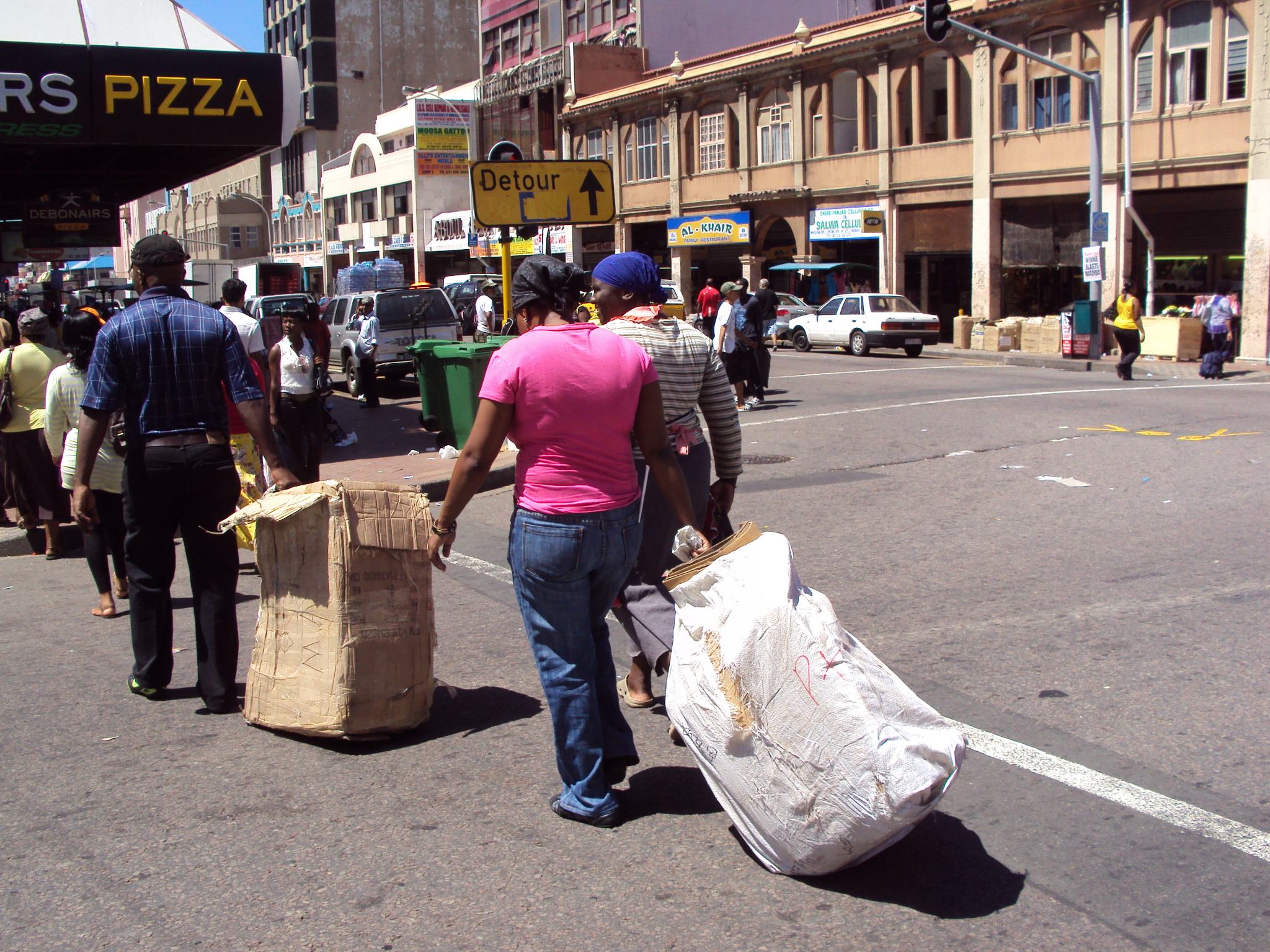 Previously unemployed and on seeking independence from her controlling husband, she chose to recycle cardboard as a livelihood strategy for the last six years to support four dependents. She was compelled into this livelihood after seeing that her sister and other women in her community managed to independently build their own houses and buy groceries from the income earned from cardboard recycling. On being asked whether she would consider any other kind of work, she said:
If I have to, I will consider other work but only where I can be my own boss and where I can be in charge and work for myself as I do now.
This statement is revealing in that there are various motivations that compel informal workers to practice their livelihoods, beyond merely being a survivalist strategy. More traditional research methods would have reduced rich stories as these to hard facts and statistics which are useful. However, the work of these communities largely remains invisible and utilising a narrative approach is foregrounding not only the statistics, but also their rich contribution to inner-city life.