Tasmi Quazi
On Monday the 11th of August, at the 9th Diakonia Lecture and presentation of the human rights award given to "local heroes", Asiye eTafuleni's (AeT) Project Leader was chosen as the 2014 recipient of this significant award for advancing the human rights of informal workers, particularly in Warwick Junction.
He was lauded for his contribution to social activism during apartheid from as early as his student years and his architectural practice years, and to post-apartheid transformation, during his years as an eThekwini municipal official and as project leader of AeT.
His contributions to the city were described as follows:
In Durban, Richard worked for the eThekwini Municipality for ten years as a project leader of the Warwick Junction Urban Renewal Project and iTRUMP, particularly supporting urban informality. He participated in the formulation of the first international municipal policy for urban informal workers.

He received a Union of International Architects Vassilis Sgoutas Prize for architects working towards alleviating poverty, specifically in the Warwick Junction project, uplifting the lives of an estimated 8000 market and curb-side traders by creating a vibrant, socially and economically sustainable city market. Rather than relegating this activity to a peri-urban ghetto, he ensured its participation in the vitality of the inner city (…)

(…) The project has demonstrated that public spaces in cities can responsibly and creatively be utilised as a development resource to include a wider range of participants and specifically in South Africa, for those previously legally excluded from inner city benefits. Respecting these livelihoods is an essential component of Richard's belief (…)

Richard and his team of highly motivated colleagues essentially work with huge numbers of informal traders, sixty percent of whom are women caring for families (…)"
During his acceptance speech, Richard mentioned that receiving the Human Rights Award has been an unexpected outcome of a profession in architecture. However, he humbly added that he has been fortunate that his profession and calling for social service within informality complemented each other. He was praised by the guest speaker, Jim Wallis, who described the momentous occasion as, "…celebrating a man and his work (…) who is helping to morally guide society through a vocation that is striving for a common good"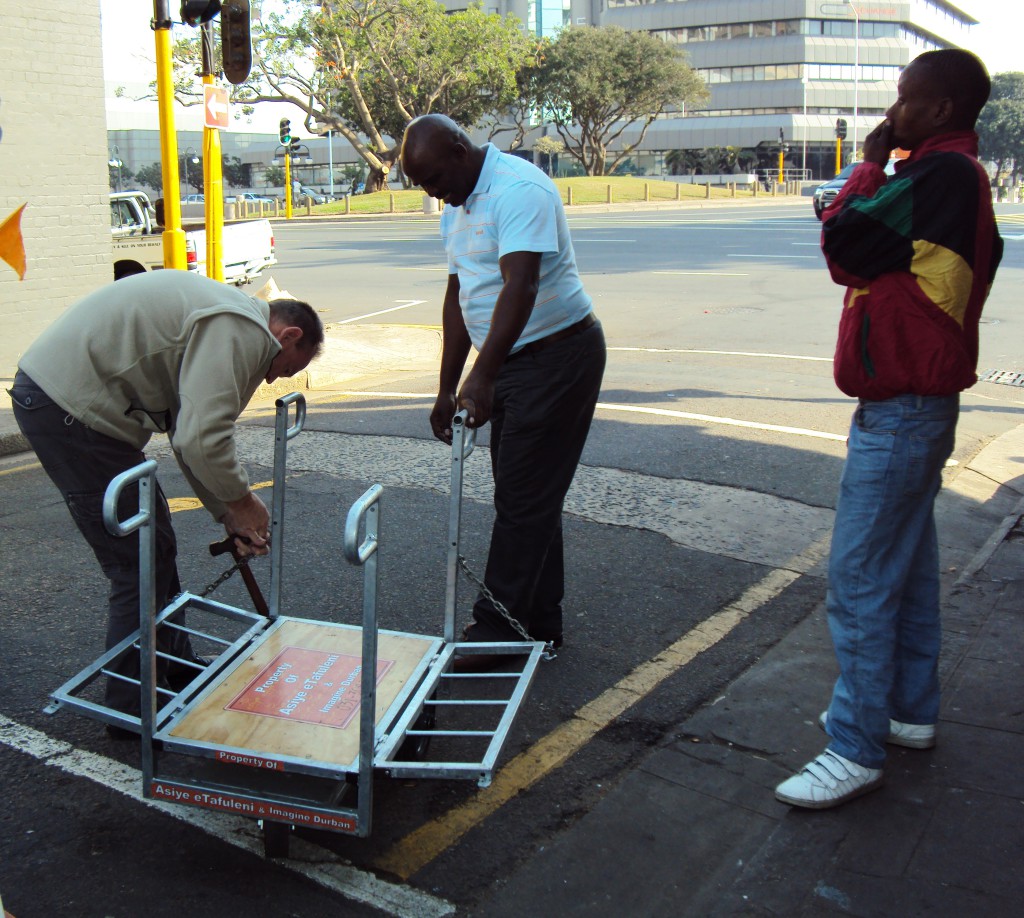 Richard passionately motivated the need to support urban informality as a matter of ensuring economic justice. He referred to the immense contributions of informal workers to the local economy, job creation, and the great number of dependents they serve.
Emotively, he emphasised the importance of foregrounding the invisible contributions of informal workers, who largely face harsh and indiscriminate actions on a daily basis such as confiscations at the individual level; or where the livelihoods of entire communities of informal workers are threatened by the persistence of developing shopping malls. He added:
"There is a serious level of post-apartheid work we still have to do to realise spatial equity in our cities. Traditionally cities are where resources are concentrated and the poor people, who constituted the previously disenfranchised still remain excluded, harassed and struggling to get a foothold within local economies. There is serious work ahead. I am encouraged that this award aligns with the cause of economic justice for informal workers…"
To read more about this event as covered by media in the Daily News, click here.