Markets of Warwick were invited to host an exhibition stand at the Durban International Boat and Lifestyle Show last weekend. The event is one that primarily attracts sailing enthusiasts from the coastlines of KZN, however a lifestyle component has been added to the event to further attract locals. Exhibition tents were filled with a range of products from boat engines to jewelry and this year – The Markets of Warwick Community Tourism Project!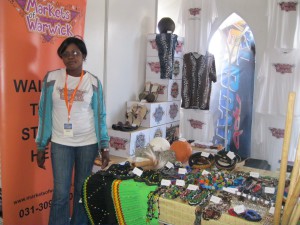 Our display sought to market the tours through an eye-catching and colourful display with a unique array of products that can be purchased throughout the Markets of Warwick. The display itself was innovatively designed optimizing on a humble budget, considering that the beautiful library of images of the informal traders and their markets adorn local and international Art Galleries at a larger scale.
Local trader Dumisani Dlamini crafted the table used for the display, as an exact replica of an informal trader's table. Dumisani took over his father's carpentry business and has been crafting wooden tables for informal traders in Warwick Junction for many years. He explained that this was the first time he has made a table for an exhibition as he commented, "I am very happy that my business is getting more exposure".
The managing and operating of the stand was collaborative between AeT staff and trader tour guides involved in the Markets of Warwick Project. Exposure to this formal sector of advertising and marketing was informative, novel and a fun experience as it allowed the assisting traders to further develop their skills on the tourism industry; and for Jabulani Sambo (Trader and Tour Guide), he was also able to experience a boat cruise around and beyond the Durban harbor for the first time.
These were his comments:
"I leant a lot from the show, for example that as a tour guide there could be a lot of other interests that you would offer to tourists (…) Being on the boat for the first time was an awesome experience. I was so happy about it and I saw an opportunity for [the] future. To be so deeply in the sea gave me a renewed respect for the sea. I will be telling all other traders to go on boat cruises and learn more about the sea"
The Markets of Warwick stand generated substantial interest throughout the weekend and special thanks must be extended to Barry Meehan for enabling us to exhibit in this fantastic opportunity.
This has served as a good experience in preparation for the upcoming Sustainable Living Exhibition to be held in September 2011 at the Durban's International Convention Centre, in which the informal traders from the Markets of Warwick and the inner-city will again showcase their working lives and unique products. We will keep you posted!