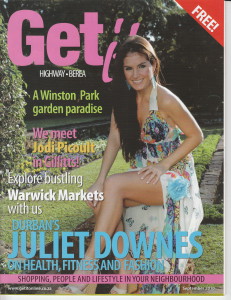 The Markets of Warwick tours, a project initiated by the Warwick Junction trading community with the assistance of Asiye eTafuleni, is featured in the September 2010 edition of Get It (Highway Berea) on pages 22–24.
It is described as "an essentially interactive and cultural walking tour initiated by local traders to show case their merchandise and the endemic and vibrant energy of their markets that are so much a part of Durban."
The journalists further report that:
"Admittedly, taking a walk through the nine markets on this specially choreographed tour seemed pretty dubious at first, with Warwick Junction lying at the edge of Durban's inner-city as the primary public transport interchange… But, experiencing it first hand gave us a huge reality check and opened our eyes to a whole new and memorable cultural experience right on our doorstep."
Click on the images below to read the full article that is illustrated with beautiful images of the different markets. Better yet, experience it for yourself by booking a tour through: www.marketsofwarwick.co.za!