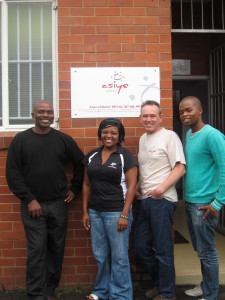 The Asiye eTafuleni team celebrates a small but significant milestone – the display of our external office signage! Whilst establishing our NPO's presence amongst a generally welcoming and receptive community, there have been those that consider our work to be 'reactionary' and contrary to some local authority developmental proposals.
We have been disappointed at this response and have not wished to provoke negativity that would distract us from our purpose. This included the overt identification of our office presence at eThekwini.
We believe we are now moving beyond this initial negative perception of our work, and so in response we have literally 'nailed our colours to the wall'!
We are located at Unit 111, Seda Ethekwini, 127 Johannes Nkosi Street [former Alice Street], Durban, South Africa.